Looking for some respite in your every day routine?
We are feeling your need for support on Bathroom remodels these days!
In this space where we begin and end every day, we believe the experts who tell us to take some time for self care, and the trend we see in Bathroom renovations these days seems be answering that call for so many.

This gorgeous spa-like bathroom (image 1) was designed by our sister company Studio MG Interiors for a home on a Vineyard in Northern California. The client wanted to feel organic and natural elements for a warm, inviting space that was also fresh and clean.
Here's how you can bring the feeling home for yourself!
Our Top 5 Bathroom Remodeling Tips
1. Organic elements like wood are a beautiful compliment to the typically cold surfaces in a bathroom.

Teak wood is meant to withstand moisture without molding. Bring in a bench, stool, shelf, even cabinet knobs.
2. For a soothing feeling, keep the intricacies minimal.

The European feel of this bathroom calls to an old-world way of designing without liner tiles, bullnoses and other tile "accessories". Simple square grouted intersections are seen in this Bathroom.
3. Black and White patterned tiles are at the same time on trend (which means you can find a lot of options stocked right now - yay!) and historically timeless.

Check out clé tile where we sourced the floor tiles for this bathroom and Zia tile for the larger Black and White encaustic patterns.
4. If you can carry the same tile from the Bathroom floor into the Shower floor, the space opens up.

Less obstacles, less changes in elements feels more peaceful. Be sure the tiles are smaller if you're using them in the shower for the right slip coefficient.
5. Bonus sourcing tip! Our favorite Moroccan tiles are from mosaichsenyc.

Sample their extensive color pallet and don't be afraid to pick your favorite for a whole accent wall of tile, even if it extends outside of the shower. Check out this Powder Room (image 2) in Rancho Santa Fe, also designed by Megan Hersch from Studio MG Interiors.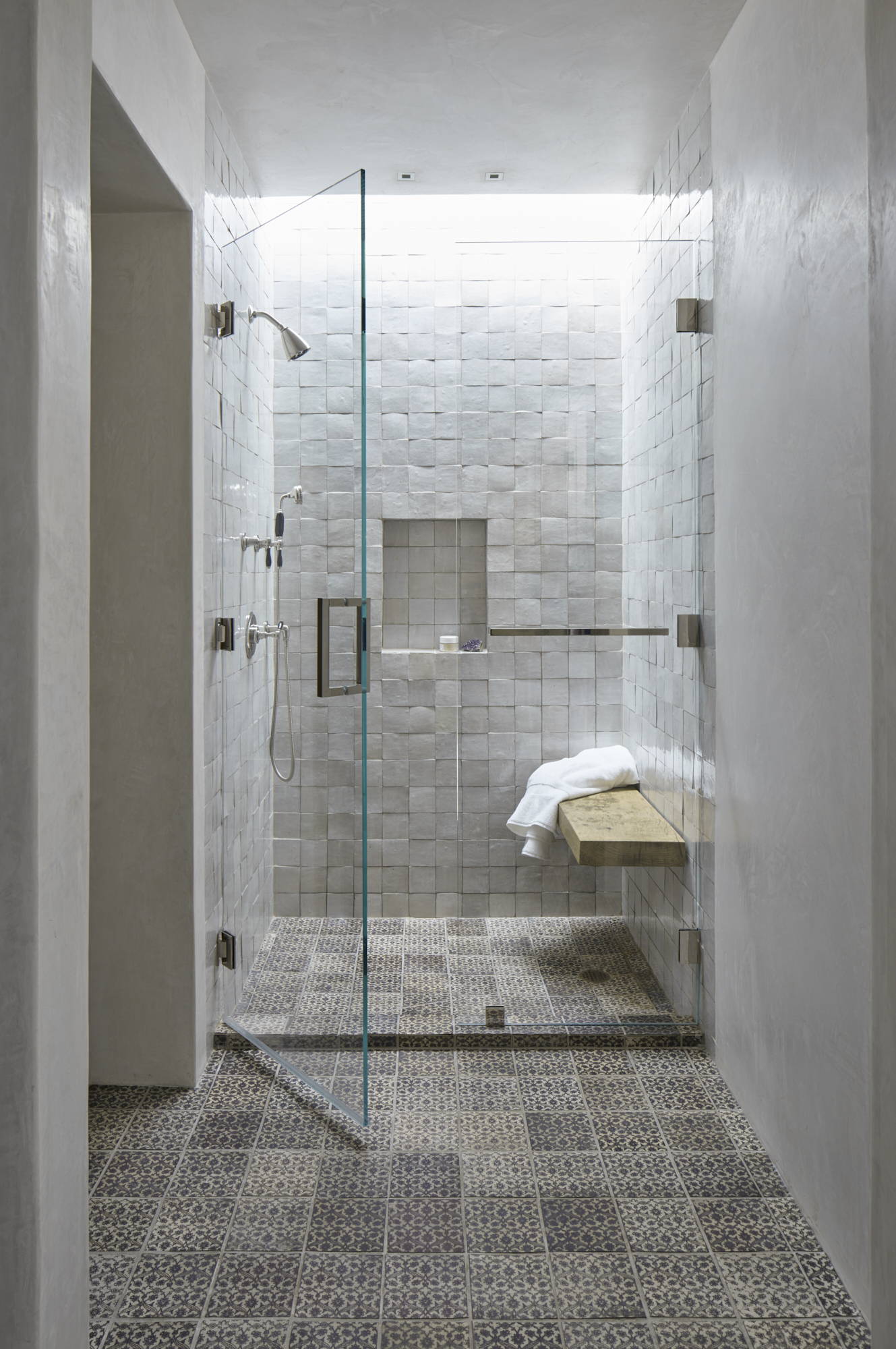 Gorgeous spa-like bathroom, designed to feel warm, organic and filled with natural elements. By our sister company, Studio MG Interiors.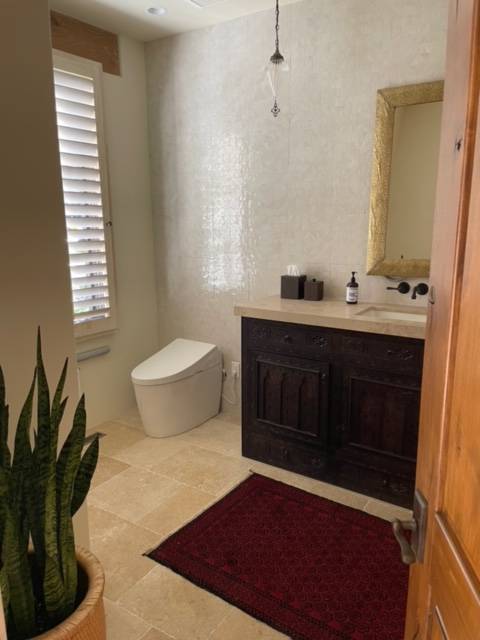 Powder Room in Rancho Santa Fe by our sister company, Studio MG Interiors.
For the ultimate in luxury (this is self-care don't forget), install radiant heat under your Bathroom floor if you are gutting the whole room for your remodel.